Researchers at the Kwame Nkrumah University of Science and Technology (KNUST) have developed a ventilator for use in the fight against the Coronavirus (COVID-19) disease in the country.
Information Minister, Kojo Oppong Nkrumah announced on his Twitter wall that the ventilator will have to go through the necessary testing before it is approved for use.
"It's exciting to note that researchers at KNUST h
ve announced the local production of a loca ventilator. In the coming days we will have to engage and get the necessary approvals to procure and use some if need be. Well done guys…," he announced on his Twitter handle.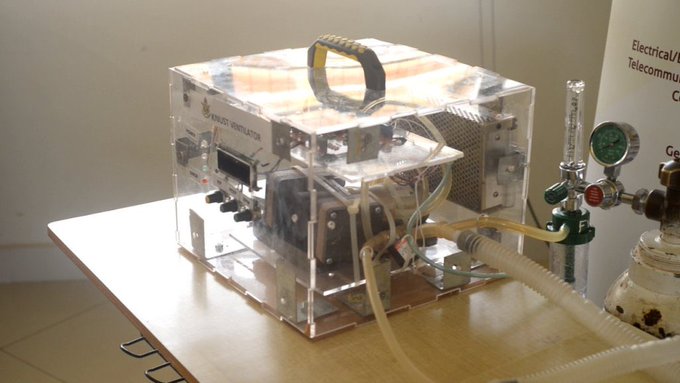 State of Ventilators in Ghana
Answering a question on the number of ventilators in Ghana currently, Health Minister, Kwaku Agyemang Manu said:
"Ghana has 67 ventilators. An extra order of 50 has been made out of which 20 has arrived whilst we await the remaining 30. That together with what we have in the private gives us about 200 ventilators in Ghana," he said.
Presidential adviser on health, Dr Nsiah Asare has also added that the 307 Ambulances that were procured by the government also have mobile ventilators in them to support the Coronavirus patients.
"All the 307 ambulances that were brought into Ghana have ventilators," he said on Peace FM's 'kokrokoo' program on Tuesday, March 31, 2020.
VENTILATORS AND ITS IMPORTANCE
A ventilator is a machine that provides mechanical ventilation by moving breathable air into and out of the lungs, to deliver breaths to a patient who is physically unable to breathe, or breathing insufficiently.
This gives the patient time to fight off the infection and recover.
According to the World Health Organization (WHO), some 80% of people with Coronavirus disease can recover without needing hospital treatment.
But one person in six becomes seriously ill and can develop breathing difficulties.
In these severe cases, the virus causes damage to the lungs. The body's immune system detects this and expands blood vessels so more immune cells enter.
But this can cause fluid to enter the lungs, making it harder to breathe, and causing the body's oxygen levels to drop.
To alleviate this, a machine ventilator is used to push air, with increased levels of oxygen, into the lungs.
The ventilator also has a humidifier, which modifies heat and moisture to the medical air so it matches the patient's body temperature.
Patients are given medication to relax the respiratory muscles so their breathing can be fully regulated by the machine.
Ghana is currently battling the spread of the disease in the country.
The country currently has 378 confirmed cases of the disease.
Source: Ghana | GhanaNewsPage.Com