People arriving in England from more than 50 countries including France, Spain, Germany and Italy will no longer need to quarantine from 10 July, the Department for Transport has confirmed.
A full list of exempt countries posing "a reduced risk" from coronavirus will be published later.
Most travellers to the UK currently have to self-isolate for two weeks.
The Foreign Office is also changing its advice against all but essential travel to a number of countries from Saturday.
The quarantine restrictions only came into force in early June, in a bid to stop coronavirus entering the country at a time when UK infections were falling.
The new exemptions mean people arriving from selected countries will be able to enter England without needing to self-isolate, unless they have been in or transited through non-exempt countries in the preceding 14 days.
Transport Secretary Grant Shapps told BBC Breakfast the full list of "50 plus" exempt countries would be published on Friday afternoon.
He said countries on the list would be labelled as either amber or green, in line with a traffic-light system based on their prevalence of coronavirus.
All amber countries – including France, Germany, Italy and Spain – will have "reciprocal arrangements" in place, meaning travellers from the UK will not have to quarantine on arrival there either, Mr Shapps said.
People will still be unable to travel to countries on the red list, which will include the US, Mr Shapps told BBC Radio 4's Today programme.
And countries categorised as green, which have "very low" levels of coronavirus, will have restrictions for UK arrivals, he told Breakfast.
"I take New Zealand as a good example. They do have restrictions when you arrive, but we thought it was right to include them [on the UK's list of exempt countries] because people may want to come here from New Zealand, and that's no particular threat to our hard-won gains that everyone's been going through, staying at home," he said.
He said Greece would not be on the amber list because the country would not make a decision about its own restrictions for UK travellers until mid-July.
'Hope' devolved nations will follow
Mr Shapps said he had "held off" from his announcement in the hope that Scotland, Wales and Northern Ireland would reach a decision at the same time as England.
The Scottish government has not yet finalised its decision on easing restrictions on international travel.
The Welsh government is also yet to decide whether it will follow England in relaxing restrictions. In Northern Ireland, quarantine regulations remain in place for travellers arriving from outside the UK and the Republic of Ireland.
Mr Shapps said there was "still an opportunity" for the devolved nations to match England's decision ahead of the changes coming into effect on 10 July.
"I very much hope that we can do this as four nations at the same time – I think it would just simplify it for people a great deal – but they will need to make that decision themselves," he said.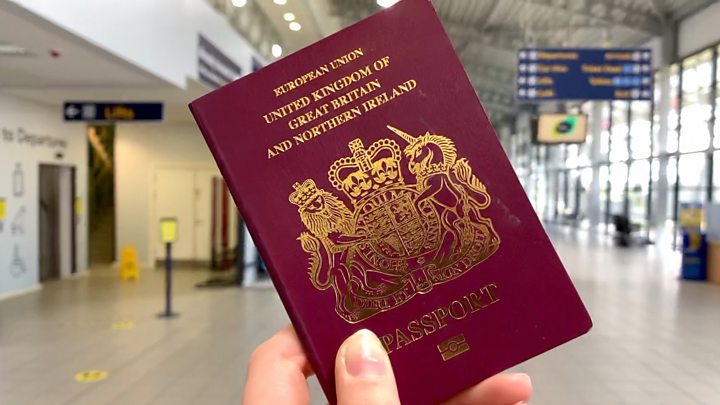 Ministers have been under pressure to ease quarantine measures because of the impact on the travel industry.
The Department for Transport said a risk assessment had been conducted by the Joint Biosecurity Centre, in close consultation with Public Health England and the chief medical officer.
It considered factors including the prevalence of the virus, the numbers of new cases and potential trajectory of the disease in that destination, the department said.
The list of exempted countries would be kept "under constant review", so that if the health risks increase, self-isolation measures could be re-introduced, the DfT added.
Mr Shapps said people who were currently quarantining because of returning from abroad would be able to end their isolation period on 10 July.
Meanwhile, the Foreign Office will set out exemptions for a number of destinations from its current advice against non-essential international travel, which has been in place since 17 March.
Mr Shapps said the move marked "the next step in carefully reopening our great nation".
All passengers, except those on a small list of exemptions, will still be required to provide contact information on arrival in the UK, including details of countries or territories they have been in or through during the previous 14 days.
A spokesman for trade association Airlines UK said the announcement was "very welcome" and meant airlines would "be able to re-start services to many key markets in time for peak summer travel".
"There's no doubt quarantine has had a devastating impact on our industry and whilst it's welcome the government has removed its blanket ban we would encourage rigour and science is applied in all future decisions surrounding our businesses," he said.
The quarantine policy has been criticised by some Tory MPs, including former transport minister Theresa Villiers.
She said it had damaged the travel industry without reducing the risk from coronavirus.
Asked on the Today programme about jobs already lost in the hospitality and aviation industries – in part as a result of the restrictions on international travel – Mr Shapps said: "The question I suppose everybody would have to ask is where is the right balance between making sure that we put lives first but also protect livelihoods. And this is not an easy balance."
The announcement comes as the prime minister is due to lead a press conference, ahead of businesses including pubs, restaurants, hairdressers and cinemas reopening in England on Saturday.